Webinar: Research & Development Tax Credits for Small Businesses
Webinar: Research & Development Tax Credits for Small Businesses
Research & Development Tax Credits are available to businesses that develop new or improved products, processes, software, techniques, formulas, or inventions that result in new or improved functionality, performance, reliability, or quality.
The R&D Tax Credit incentivizes companies to keep high-paying, technical jobs in the U.S. To achieve this goal, the credit criteria are broad and encompass a wide array of activities conducted in modern business. Many small business owners incorrectly assume this incentive is only for cutting-edge technology firms, resulting in eligible companies missing out.
In general, if a company designs, develops, or improves a product or manufacturing process, then they likely qualify for this credit. This development effort not only encompasses new product development, but also incremental improvements to existing products.

Headdy Mulroy Advisor Group, LLC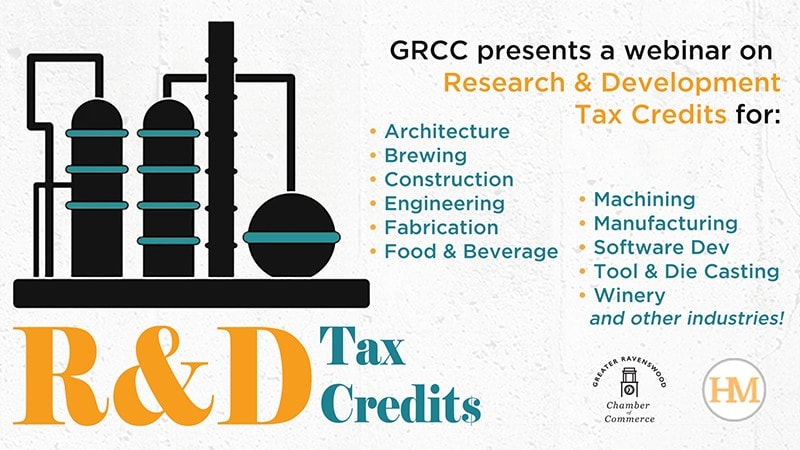 Ready to learn more?
Join the Greater Ravenswood Chamber of Commerce for a webinar on Research & Development Tax Credits on Tuesday, October 5th at 10am. Headdy Mulroy Advisor Group will present on R&D Tax Credits, eligibility, qualifying business activities, and how to claim the credit. Headdy Mulroy, a Chicago-based firm, specializes in government-sponsored credits and incentive tax services that reduce tax liability for small businesses.
Many industries qualify for this incentive, including:
Aerospace
Agriculture
Architecture
Brokerages
Construction (including "LEED" related efforts)
Cosmetics
Engineering
Finance/ Insurance
Financial Technology ("FinTech")
Food Production
Details

Date/Time
October 5 2021, 10:00am - 11:00am
Location

Zoom -- all registrants will receive a zoom link upo

Phone
John Blick
Admission

FREE!

RSVP / Purchase Tickets
Post your Uptown event
Is your business or organization hosting or producing an event? Do you know about a neighborhood meeting that you'd like to get the word out about? Complete the form below with your information and allow up to three business days for our team to review your submission. If you have some news to share, we'd love to hear about that, too.